Activities in Cancun? A sea trek with Delphinus Trek
---
What to do in Cancun with the family
Most probably every time every time you start planning family vacations, usually you look for recreational and interactive activities that will help you enjoy and get to know the destination at its full potential. A good way of doing this is through its museums, aquariums, zoos or parks because these places possess particular features of the region you want to spend your vacations at.
So, if your family vacations plan is at Cancun, you will find yourself with questions such as what activities in Cancun can we do? And there are countless options, but there are numerous options, but among all of them, there is the compulsory visit to the one and only aquarium at Cancun, The Cancun Interactive Aquarium.
But… what if instead of touring the aquarium in the conventional way and only observing the species from outside the fishing bowl, you could do it from inside one of them? Can you imagine?
Keep on reading and we will tell you how you can do this with the whole family.
The Cancun Interactive Aquarium has a totally new, interactive and fascinating attraction for you, With Delphinus Trek, you will be able to interact along with other 7 people, and you will admire more than10 fascinating marine species such as:
Tarpon or shad
Orange tail trigger fish
Rosin pitch (Rubia)
Pepper surgeon fish
Moorish idol (Yes, from the movie "Finding Nemo")
African surgeon fish
Ring tail surgeon
Cownose ray
All the aforementioned will be done with the help of certified divers that will help you make of this interaction an unforgettable one.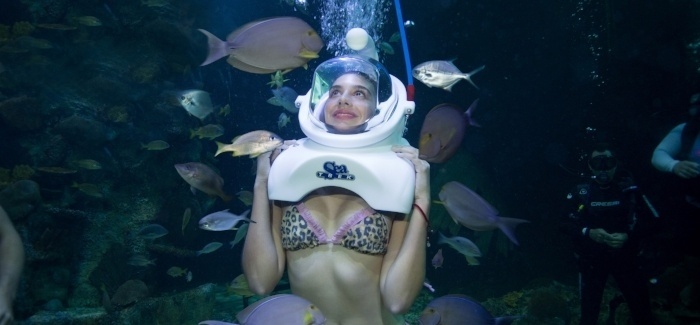 We can assure you that by now you are totally interested, but we still want to explain you a little bit more about the experience and the technology of the equipment and the Sea Trek® helmet.
You do not need to know how to swim, because you won't need it, is as simple as walking outside the water, but with the feeling of walking on the moon. The activity consists in using a helmet that will allow you to breath comfortably with your nose while you enjoy the activity and the species. What´s more, women will not suffer, because their make up will stay on. Your hair will not get wet and you will even be able to use eyewear or even contact lenses. The interaction activity allows you to walk within a limited area where you will be able to touch and feed the aforementioned species.
Without any doubt, from all the activities available in Cancun, this one will be a submarine adventure for vacations in the Caribbean that you will be able to boast and bring back to live with your friends and family.
Related posts